Description:
vee-validate is a lightweight plugin for Vue.js that allows you to validate input fields, and display errors.
Preview: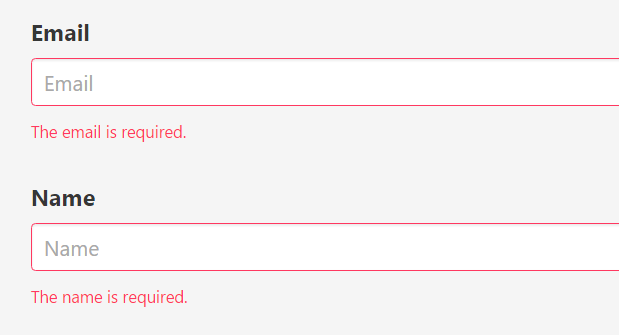 Changelog:
v4.4.7 (07/20/2021)
v4.4.6 (07/08/2021)
v4.4.5 (06/14/2021)
Fixed null initial values not being respected
v4.4.4 (06/06/2021)
Fixed: field with pre-register schema errors should be validated on register
v4.4.3 (06/02/2021)
Fixed bails option being ignored in <Field /> component when using form schema with global rules
v4.4.2 (05/29/2021)
Clean up form values fields that exchange their name with another field
v4.4.1 (05/24/2021)
Bring back errors object on the form validation result that was removed by mistake
v4.4.0 (05/24/2021)
Fixed the URL rule not exported
Fixed an issue with Field component not emitting onUpdate:modelValue when bound to undefined
v4.3.6 (05/09/2021)
Added a new way to detect if modelValue was passed as a prop or not
v4.3.5 (05/02/2021)
Bugfix: priotrize self injections over parent injections closes
v4.3.4 (04/26/2021)
Ensure the valid flag is updated correctly regardless of the validation intent
v4.3.3 (04/22/2021)
submitting forms rendered by <Form /> or handleSubmit or submitForm functions, all fields will be automatically "touched"
v4.3.2 (04/21/2021)
Fixed an issue with the initial value being wrapped in a ref which caused some issues for individual resetField calls and dirty field-level flags
v4.3.1 (04/18/2021)
Added name to the ErrorMessage component ctor options which should make it identifiable in Vue dev tools
Tweaked slots rendering for custom components with Field, Form, ErrorMessage component which avoids Vue warning in some situations
v4.3.0 (04/08/2021)
Computed Validation Schema Support: Previously when working with yup schemas, in particular, it was hard to create a dynamic schema using just the Yup.mixed and Yup.when API, now you can create computed schema to make it easier to do so.
v-model.number modifier support: TheField component v-model now supports the .number modifier.
New global rule: The url rule is added back to the global validators, thanks to @davidguilherme who worked on this.
Several enhancements to the ja locale.
v4.2.4 (03/25/2021)
Fixed an issue where validation would trigger on value change with useField even if validateOnValueChange is set to false
v4.2.3 (03/22/2021)
v4.2.2 (03/04/2021)
Fixed an issue for pending validation with fields/forms being unmounted with vue-router
Added Uyghur locale
v4.2.1 (02/27/2021)
Fixes some issues introduced in 4.2.1
v4.2.0 (02/24/2021)
v4.1.20 (02/24/2021)
Fixed nested errors
Fixed an issue where initial values for checkboxes would cause malformed output
v4.1.19 (02/16/2021)
A new companion package @vee-validate/zod was published which allows vee-validate to perform field-level and form-level schema validation with Zod as a drop-in replacement for yup
v4.1.18 (02/11/2021)
Fixed an issue where fields value is set to blank after being switched with another that shares the same name due to a race condition
v4.1.17 (02/09/2021)
Added a fallback event object detection in case the handler receives a non-standard window.Event instance
v4.1.16 (02/08/2021)
Fixed global rules not resolving nested field value when targetted by another field
v4.1.14 (02/06/2021)
Fixed an issue where fields with global rules that includes cross-field validation will ignore the validation triggers
v4.1.13 (02/06/2021)
v4.1.12 (01/27/2021)
Fixed an issue where radio fields in an array were not switching their value correctly when removing previous item
v4.1.11 (01/19/2021)
Exposed validateField function on the <Form /> slot props and useForm return value, previously it was only available as a composable helper function.
v4.1.10 (01/17/2021)
Fixed an issue where array fields didn't preserve their state if another item were added and they weren't manipulated yet
v4.1.9 (01/13/2021)
Updated the types to use yup own type information and enhanced the compatibility between generic useForm and object schemas
v4.1.8 (01/13/2021)
Changed <ErrorMessage />to not render anything when there are no messages for the associated field
v4.1.7 (01/12/2021)
Exposed a couple of submission types: SubmissionContext, SubmissionHandler
v4.1.6 (01/10/2021)
Added onSubmit prop on the Form component and added emits option to allow templates to work well with typescript.
v4.1.5 (01/05/2021)
Fixed an issue caused by the 4.1.4 release where initial values with v-model were not correctly set.
v4.1.4 (01/04/2021)
fixed an issue where formless checkboxes created with <Field /> component would fail to toggle their associated v-model value
v4.1.3 (01/02/2021)
Now you can provide a value type to useField
v4.1.2 (12/26/2020)
added useSubmitForm composition API helper that functions similarly to handleSubmit but with a composition API style.
v4.1.1 (12/19/2020)
Fixed missing exports for useFieldError and useFormErrors
v4.0.6 (12/15/2020)
added unchecked-value prop to the <Field /> component to allow creating toggling value fields
minor performance enhancements for <Field /> and <Form /> components
bug Fixes
v4.0.5 (12/12/2020)
Added validateOnInput, validateOnUpdate, validateOnBlur, validateOnModelUpdate props to the Field component to customize validation triggers per field instance
v4.0.4 (12/09/2020)
added submitCount state to <Form /> and useForm()
bugs fixed
v4.0.3 (12/05/2020)
fixed an issue where radio inputs values were stringified
v4.0.2 (12/05/2020)
fix: regex rule was not working correctly
v4.0.1 (11/25/2020)
Make sure to pass down native blur and input and change listeners to rendered Field input node
v4.0.0 (11/16/2020)
v3.4.5 (11/11/2020)
fixed double rule signature not being compatible with extend TypeScript signature
v3.4.4 (11/08/2020)
fix: double rule signature not matching closes
v3.4.4 (11/07/2020)
Disabled observers no longer participate in validation
v3.4.3 (10/22/2020)
Exposed validateWithInfo on the ValidationObserver scoped slot props
v3.4.2 (10/21/2020)
Expose validateWithInfo as Observer slot-prop
v3.4.1 (10/11/2020)
Added double rule to validate decimal numbers with either comma or dot as a seperator
v3.4.0 (09/21/2020)
Fixed a long standing issue where validation observer validate() method would not sync the errors on the observer instance immediately
Added validateWithInfo function on the ValidationObserver instance that returns more information about the validation run, it returns an object with isValid, errors, fields, and flags
v3.3.11 (09/11/2020)
fixed an issue where infinite arguments targetting other fields like excluded would not be mapped to their target values
v3.3.8 (08/01/2020)
fixed withValidation not preserving wrapped components scoped slots
i18n updated
v3.3.7 (07/01/2020)
v3.3.6 (06/27/2020)
Mark params argument as non-optional as it will always be provided
v3.3.5 (06/20/2020)
fix: added NaN check for value equality during re-render
v3.3.4 (06/17/2020)
Updated i18n
Added image/webp support to the image rule
Download Details:
Author: logaretm
Live Demo: http://vee-validate.logaretm.com/examples
Download Link: https://github.com/logaretm/vee-validate/archive/master.zip
Official Website: https://github.com/logaretm/vee-validate
Install & Download:
// for vue 1.x
npm install vee-validate --save

// for vue 2.x
npm install [email protected] --save
You Might Be Interested In: